This "Hash Cafe" in Medan, Sumatra, Indonesia in Jalan Achmad Jani (Jalan = street) is already history. It closed down on the 15th of August 2004. The new Hash Cafe just around the corner opens soon.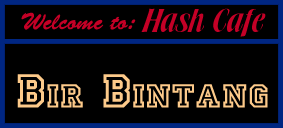 Almost at any time some hashers are there. The staff is wearing Hash T-Shirts, too. And the walls are full with framed Hash T-Shirts. On the pin board you find infos about hashing and the location of the next hash.

click to enlarge...
This site is best viewed with Internet Explorer 5.0.
Copyright @2001 Pink Frits. All rights reserved.
| | | |
| --- | --- | --- |
| to the top | | of the site ... |