| Hash Words | Next Hash | Last Hash | Song Book | Hash Names | Newsline | Jokes | do you know? | Comics |
:::: Bear's wishes :::: Fire! :::: Crossing street :::: Notebook :::: Career Wife :::: Showing off ::::
Hashcomis from "Melody" ... Fire !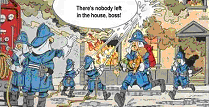 There's nobody left in the house, Boss!


We have to be absolutely sure, look again!


Arnold, you do that! ... Yes, Boss!


Anybody in here?


One hour! Is Arnold still in there?
We gotta look for him!
Maybe the way out is blocked!


Follow me! Let's find him!

Arnold! What are you doing?
Ohh...Boss...I'm...
Oh Yes, don't stop!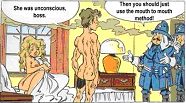 She was unconscious, Boss.
Then you should just use the mouth to mouth method!

Yes Boss, I know... and that's how it started...
| Pink Frits informs | The next Hash | Hash Links | World Hash Directory | Mail |
This site is best viewed with Internet Explorer 5.0.
Copyright @2001 Pink Frits. All rights reserved.
| | | |
| --- | --- | --- |
| to the top | | of the site ... |